REFLEXOLOGY
The foot is considered by many experts to be the second heart of the body. Whereas the heart pumps blood out to the brain and other parts of the body, the feet act to circulate and route blood back to the heart. Through Reflexology the feet are washed and massaged with the aim to improve blood flow and rejuvenate the body. Foot rubs, as they are called, provide the client with the opportunity to sit back in a very comfortable chair while the therapist works magic on the feet and the lower part of the legs. We recommend that you wear loose-fitting clothes around your lower leg area.
During the foot bath, if the client desires, we will provide free herb or dead sea salt soak. These will moisturize the skin making it smoother and glowing, promote relaxation, and strengthen the bones.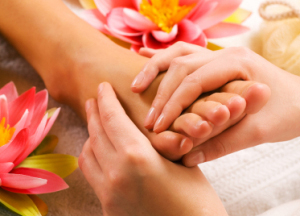 FOOT SAUNA
Proper care of the feet leads to overall well-being. When the blood is circulating properly, more oxygen reaches the brain, and wellness is improved. Throughout the day things such as smoking, poor diet, lack of exercise, and sitting too long can cause poor circulation. Keeping the feet warm enhances circulation and partially offsets exposing the body to an unhealthy lifestyle. We recommend that you wear loose-fitting clothes around your lower leg area.
Foot Sauna is performed by placing the legs in a basket, and covering them with a towel. Steam is artificially generated at the soles of our feet and penetrates the pores of our feet and legs to enhance blood circulation. Herbs and other medicinals are also used in the process. Steam with herbs acts to strengthen the physique, eliminate fatigue, and helps to cure such ailments as rheumatism, bruises, headaches and colds.